Last Minute Essay Writing Service
If you're a college student, you know the feeling of 'deadlines.' The dreaded count down of each week, day, minute, second until your essay is supposed to be submitted. Whether you're a college student taking the train to campus through NYC, or you may be a part time Mississippi college student enrolled in online classes, there will be a moment when your essay is due, and you don't know how you're going to get it submitted on time.
This is when it is important to know how choose a last-minute essay writing service. Here's a few things to keep in mind when you're searching for a last-minute essay writing service.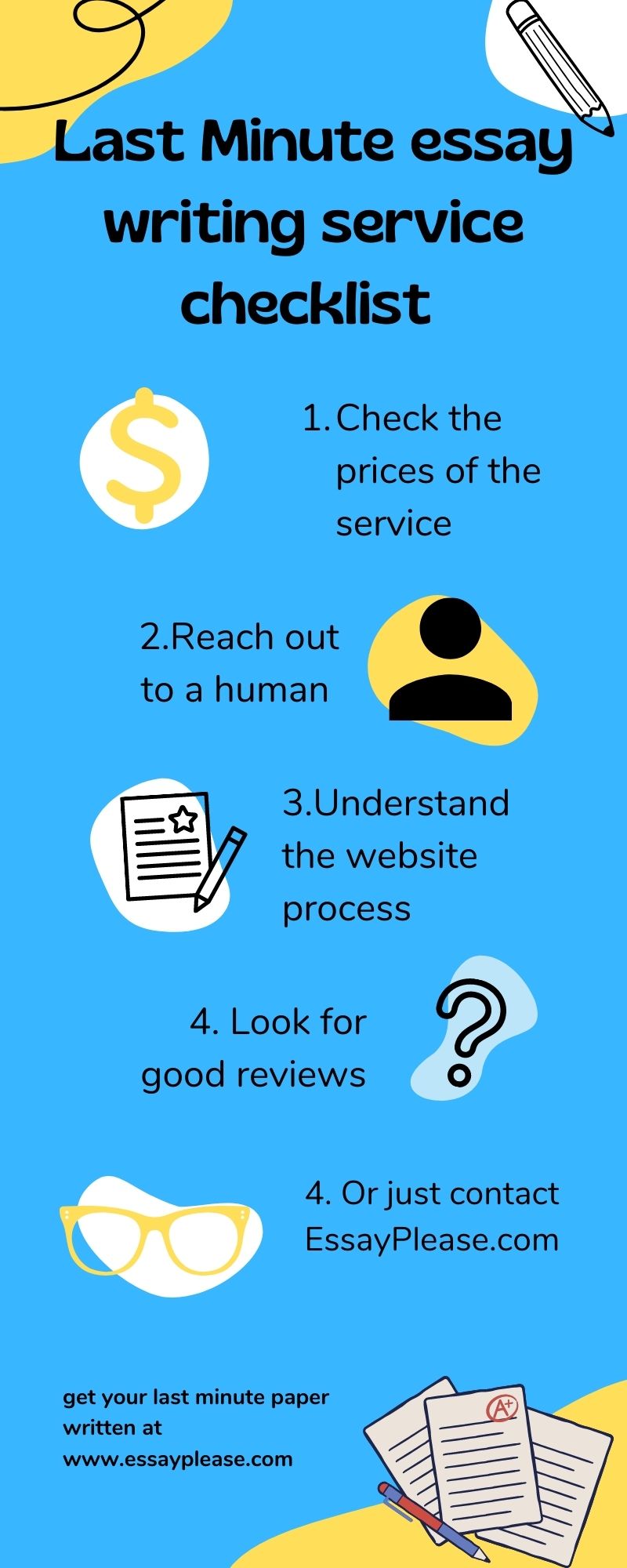 Cheapest writing essay services are not always the best choice
Be wary of services that promise you a 5-page essay in the span of 2 hours. Remember that writing doesn't appear from thin air. There is a process that needs to be followed when a writer receives your work and must ensure to deliver great quality work. From reading the instructions carefully; to outlining what will be written, then beginning the research, writing, re-reading, editing and then creating the citation page, most people don't put into consideration the complete focus and dedication that it takes to do all of this.
When you take away time and leave your writer with only a few hours to go through this process, it puts a lot of pressure on the writer. When websites such as the one below promises cheap prices, it's because the quality of the work may not be up to par. Think about it, a writer is going to receive the work, a very short number of hours to do it, and they're going to get paid very little? As the saying goes; "you get what you're paying for."

Make sure the service provides quick communication
When you're shopping for the much-needed last minute essay writing service, make sure that you communicate with a human. Most essay writing service websites have a chat widgets that allow you to speak to one of their representatives. If you are not able to get in contact with anyone, our best advice is to move forward.
There have been many instances that a client pays for a paper, and then they end up never receiving it. If you can communicate with a representative, at least it proves that there is a living breathing person (that hopefully cares) able to answer your questions and keep you updated with your last minute work.
Understand the process of the service you're looking at
Unlike EssayPlease, most essay writing service websites have a bidding and auction system. That means that once you place your order, you need to wait. For what? For writers to send you bids on how much the paper will cost you, or if x amount of writers will be able to complete your work. What's wrong with this?
Well if you're aiming for a paper that you need due, like yesterday, that 'waiting' can become inconvenient and even stressful. Every minute counts when there is only 5 hours to get an assignment done. So that hour or more of bids being sent back and forth can be problematic. Some sites connect you automatically to the best writer that can take on your work, so you don't need to worry about waiting.
Plan for future papers
As we said in the beginning of this article, everyone needs some immediate help sometimes. Essay writing services are life savers when it comes to last minute essays, however it should put your essay necessities into perspective.
Getting an essay last minute can be a pricey predicament. If you end up leaving essays until the last minute all the time, be prepared to pay a pretty penny for papers that could be a fraction of the price if you give a little more time. With this in mind, if you get another assignment that you feel you'll need assistance with, send it over immediately to your essay writing service website immediately.
And don't forget, EssayPlease is the one stop shop for all your writing needs. Whether you have that last minute essay due in 6 hours, or you have over a month to get that 20+ page thesis due, we're here for you!